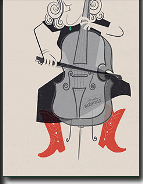 COWGIRLS – PIONEER THEATRE COMPANY in SALT LAKE CITY, UT
March 25th – April 9th, 2016
Directed by Karen Azenberg, Musical Direction by Mary Ehlinger
PRESS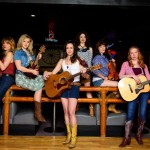 Utah's Pioneer Theatre Company plays the female notes in "Cowgirls"
Original characters return to find rich music in 20-year-old all-female musical…(read more)
"Cowgirls" to Mosey Onstage at Pioneer Theatre Company
…Director Karen Azenberg said "Cowgirls" is one of her favorite shows because audiences are charmed by the story and because it requires extraordinarily skilled actors.  (read more)
REVIEWS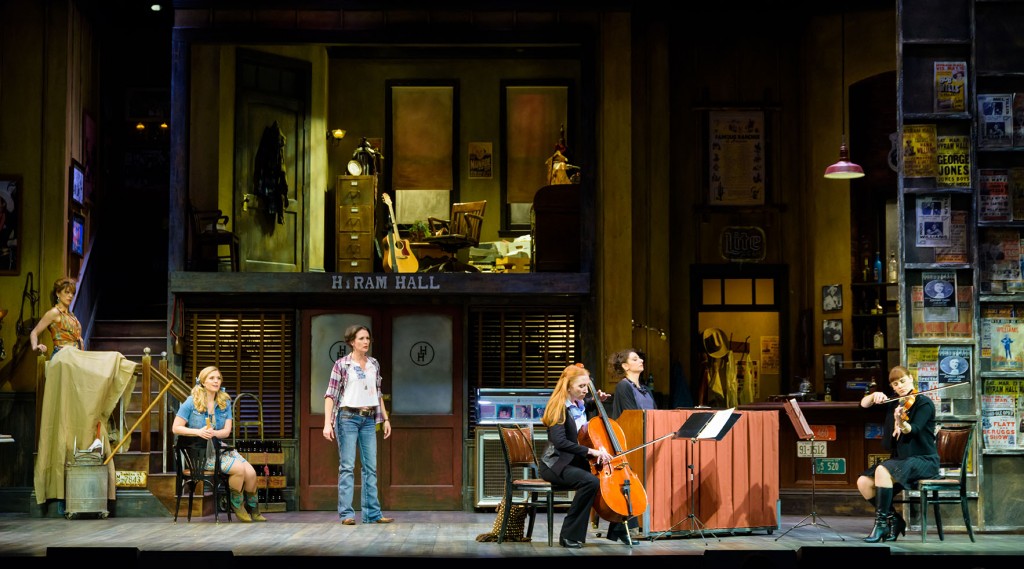 THE SALT LAKE TRIBUNE – Pioneer Theatre lassos a big-hearted musical with 'Cowgirls' 
"COWGIRLS"  offers simple fun, but the real power of the show is how the talent of these musician/actors will lasso your heart.  Twenty years on, "COWGIRLS" still reminds us the American musical theater canon needs more stories by and about women."
BROADWAY WORLD.COM –
Pioneer Theatre Company's revival of COWGIRLS, two decades after it premiered off Broadway, is a strong production of the unique show….If ONCE, MAMMA MIA!, and 9 TO 5 were all thrown together in a blender, you would get a slight approximation of the distinctive qualities of COWGIRLS, although it pre-dates all three and probably is different from anything else you have seen…The show is packed full of songs that walk a fine line between diegetic and non-diegetic music. The fact that the characters are singing songs to each other is a large part of the storyline, but the songs are usually plot and character driven. This hybrid does not always feel completely organic, but it definitely makes for an interesting ride. Most successful are the Act I closers "Love's Sorrow" and "Looking For a Miracle," which hew closest to the traditional book musical style. The characters' inner feelings are expertly drawn out in song and nicely interpreted by the performers.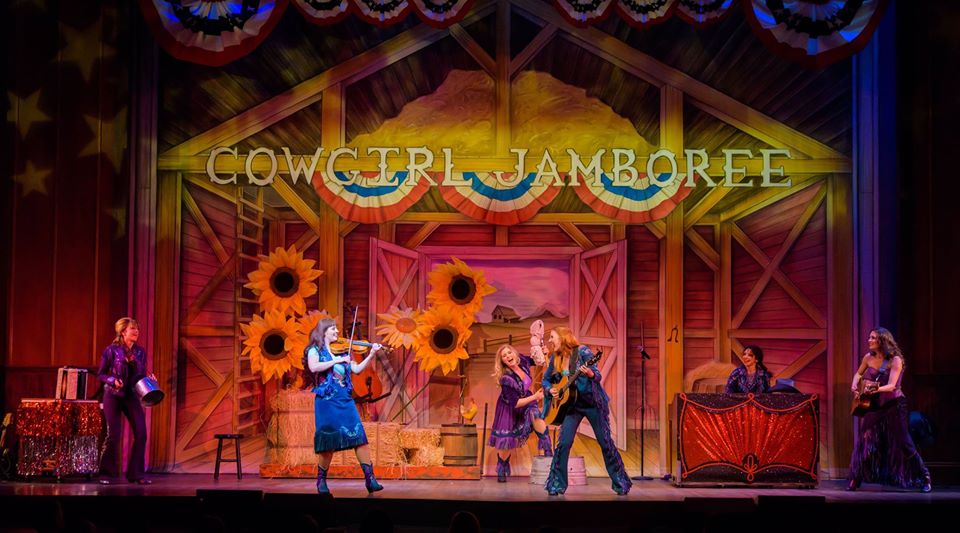 ---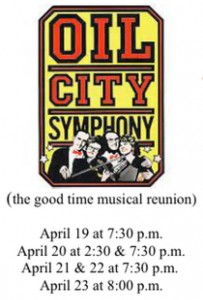 OIL CITY SYMPHONY – PLAY-BY-PLAY in GREEN BAY, WI
April 19th – 23rd, 2016
Featuring Mary Murfitt, Mary Ehlinger with Scott Greatens, and Kent Paulsen
 REVIEWS
 WFRV Warren Gerds/Critic at Large: "Oil City Symphony" is slick, quaint comedy
If there is such a thing as near-authentic camp, it might be Play-by-Play Theatre's second visit to "Oil City Symphony." This version of the show that's all-tongue-in-cheek all the time features co-creator Mary Murfitt as one of the earnest characters in the story.  She joins returnees Mary Ehlinger, Scott Greatens and Kent Paulsen as musical L7's who have returned to their high school alma mater to entertain with a recital at a reunion.  An L7 was an old LOL nickname for a square, a geek, a nerd, a person who is far more interested, and talented, in something than you are. Their seriousness makes them seem silly. So they are mocked, and that mocking cloaks a tad of jealousy. Sorry to get a bit deep there, but "Oil City Symphony" operates in touchy areas while navigating into pure humor.
…high-level musical humor that's played and enacted extremely well…The show won the 1988 Outer Critic Circle Award for Best Off-Broadway Musical, and Murfitt earned other awards.  This production has her touches of the real deal."  Click here for entire review.
---
COWGIRLS – MOUNTAIN PLAYHOUSE in JENNERSTOWN, PA
October 4th – 16th, 2016
---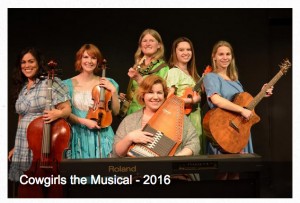 COWGIRLS – State 3 Theatre Company,  Sonora, CA
April 14th – May 8th, 2016
REVIEW – "Cowgirls is a spirited, entertaining production"
---
UPCOMING
COWGIRLS – BEYOND THE OVERPASS THEATRE COMPANY 
Gander, Newfoundland
August 3rd – 26th, 2017